Implant-Supported Dentures Offer Optimal Comfort & Reliability
Implant-supported dentures offer patients a more stable and secure alternative to traditional dentures. Prosthetics that are anchored in the jaw can provide patients with the peace of mind that their dentures will not slip or fall out, allowing them to enjoy full function comparative to their natural teeth. At Bessler & Kang, DMD Prosthodontists, serving patients in the Wellesley, MA, and Weston, MA, areas, Dr. Barry Bessler has restored dental implants for many patients who have experienced a significantly improved quality of life.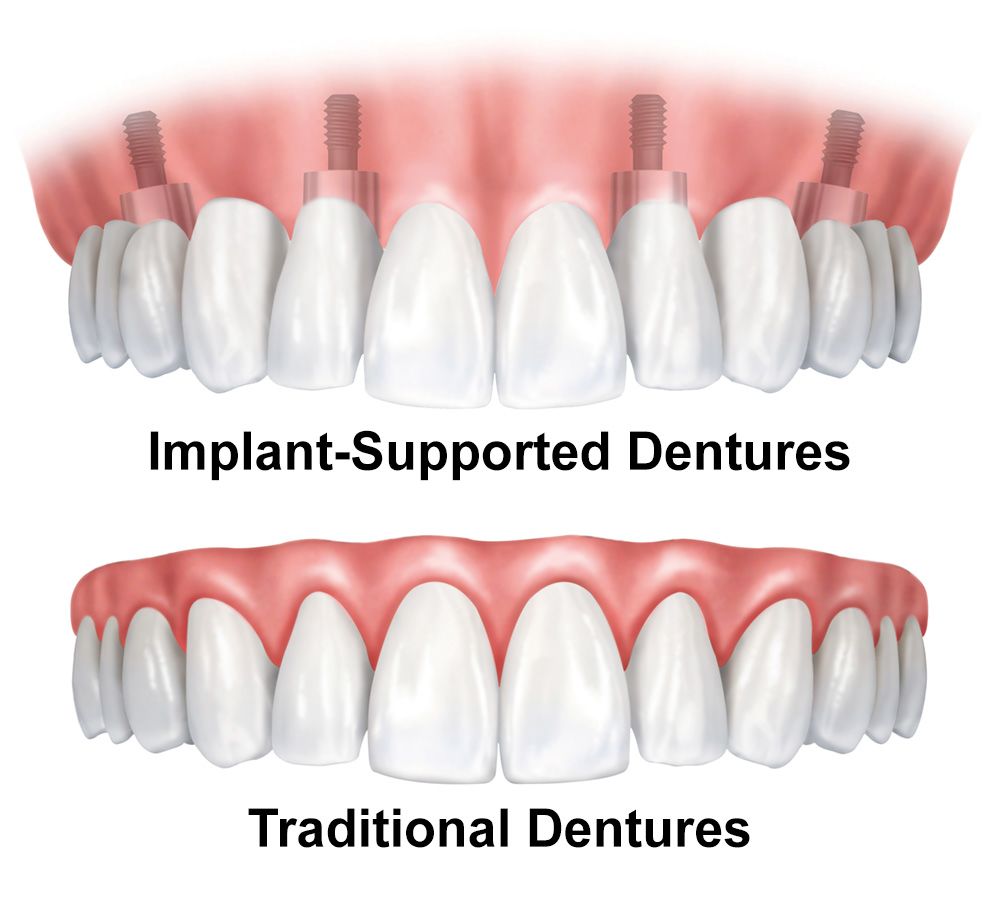 Implant-supported dentures are affixed to dental implants, while traditional dentures rest atop the gums.
Implant-Supported Dentures vs. Traditional Dentures
Traditional dentures rest atop the gums and are held in place with natural suction and special dental adhesives. While this method is typically effective, dentures can move out of position when you eat or speak. Slipping dentures can not only inhibit full dental function but also affect patients' confidence, making them less inclined to smile or engage in life freely.
Implant-supported dentures are specially designed for a lifelike look and feel, so you can be confident in your appearance.
However, with recent advancements in dental technology, dentures can now be secured in place with dental implants. These small titanium posts are implanted in the jawbone, where they fuse with your natural tissue to become a permanent part of your smile. This process creates a strong foundation for restorations such as dental crowns or bridges and offer lasting protection against slippage while providing increased durability. In addition, implant-supported dentures are specially designed for a lifelike look and feel, so you can be confident in your appearance.
The Treatment Process
Before you can receive implant-supported restorations, you must undergo dental implant surgery. During this procedure, your oral surgeon can create small incisions in the gums before embedding implant posts into the jawbone. Typically, patients receiving a full denture will require six to eight implants. Once the posts are secured in place, the surgeon can close the incisions with sutures. After placement, patients will typically undergo a four- to six-month healing period, during which time the posts will fuse with surrounding jawbone tissue.
Once your implants have healed, we take detailed impressions to help ensure your dentures fit comfortably. We then send your impressions to a trusted dental laboratory, where your restoration will be crafted over a period of about two weeks. Once complete, we can affix your dentures to your dental implants, revealing a fully functional smile. In some cases, your existing dentures can even be converted into an implant-supported restoration, saving you time and money.
Unparalleled Benefits
Implant-supported dentures not only improve the appearance and function of your smile but can promote positive oral health. After tooth loss, the jawbone no longer receives stimulation, which can lead to bone atrophy and structural changes. This process can affect the contours of your face, resulting in puckered lips and hollow cheeks. Dental implants take on the role of tooth roots, stimulating the jawbone at the site of a missing tooth. As a result, they prevent bone degeneration and can preserve your unique facial appearance.
Choose a More Stable Option
If you are ready to discover how implant-supported dentures can improve your daily life, schedule your consultation at Bessler & Kang, DMD Prosthodontists today. You can call us at (508) 358-2336 or contact us online.
"

We consider it a privilege to have you as our patient. We will honor this privilege by providing you with prompt attention and high-quality, respectful care.

" Dr. Barry Bessler